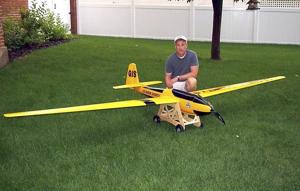 If Tim Briggs' unmanned aerial vehicle works as well as he hopes, it could soon be capturing precise imagery of Le Sueur County's farm drainage network.
The New Prague radio-controlled airplane hobbyist and former Navy sensor expert said he will likely be the first Minnesota resident to fly a drone for a county with Federal Aviation Administration approval.
At this point, their plan is to do what the county has done before — capture aerial images of terrain for use with mapping software — but more cheaply and frequently than could be accomplished by plane. If Briggs can deliver on that promise, he believes other counties are likely to seek out his services, as well.