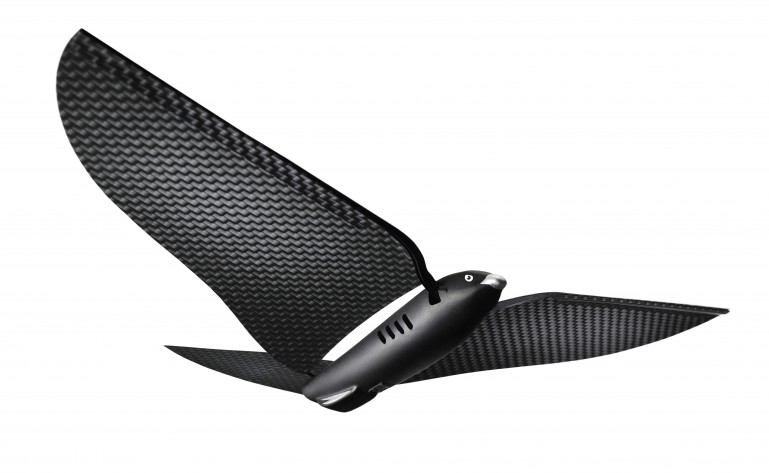 A French startup has turned to crowdfunding to build an extremely light bionic bird that can be controlled using the magnetometer and accelerometer in a smartphone. The bird, currently at the prototype stage, would communicate via Bluetooth for a range of 100 meters (330 ft) and be able to fly for up to eight minutes at a time, or over a mile, after a quick 12-minute charge.
The company has experience building similar radio-controlled toys, but two interesting new features that would come with the (appropriately named) Bionic Bird are the addition of a portable, egg-shaped charger that can store enough juice for ten full charges, and the ability to control the bird in an intuitive and agile way simply by tilting your phone in the desired direction and using touch controls to regulate speed.
Multiple employees at a Chinese drone company have landed in hot water after flying an unmanned aircraft over a Beijing suburb, sparking an air force hunt for the unidentified aerial intruder, according to local media.
Three employees at Beijing UAV Sci-Tech Co.—identified only by their surnames Hao, Qiao and Li—have been charged at the Pinggu district court, while a fourth employee, surnamed Wang, has been involved in a separate investigation, the Beijing Morning Post said in a Wednesday report.
Aerial drones are targeting a new enemy: malaria.
Four hundred feet above a Malaysian forest, a three-foot eBee drone hovers and takes pictures with a 16-megapixel camera every 10 to 20 seconds. But it's not gathering images of the mosquitoes that transmit malaria. Even today's best drones aren't capable of such a photographic marvel. Rather, the drone is looking at a changing landscape that holds clues to the disease's spread.
Article from 
The Honourable Lisa Raitt, Minister of Transport, today launched the Government of Canada's safety awareness campaign for unmanned air vehicles (UAVs), or drones. The national campaign will help ensure UAV users—both recreational and commercial—understand the rules of the skies and always think safety first.
The first phase of the campaign, unveiled today, provides the public with new safety guidelines and an easy to follow infographic that clarifies when to apply for Transport Canada permission to fly their UAV. This winter, the second phase of the campaign will include search engine and social media advertising, awareness videos and a simpler process to apply for permission to fly. Transport Canada has also launched tc.gc.ca/SafetyFirst, which provides Canadians with the information and advice they need to fly their UAV safely and legally.
The safety guidelines introduced today complement the existing requirements and will help ensure Canadians understand the risks and responsibilities of operating an unmanned aircraft. In addition to respecting the Canadian Aviation Regulations, UAV operators must follow the rules in all acts and regulations, including the Criminal Code as well as all municipal, provincial, and territorial laws regarding trespassing and privacy.